About the Game

Carcassonne is a German-style board game played by placing tiles and game pieces on a table. While playing, a medieval world of towns, roads and fields unfolds on the table.
Carcassonne for iPhone and iPad keeps all the charm of the board game and adds features only a digital board game can provide, like networked multiplayer or taking care of cleaning up the table after a game.
If you have any questions, feel free to send us an email or have a look at our FAQ.
Expansions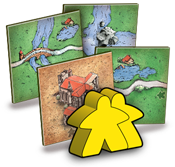 As a board game Carcassonne has a rich history of adding new game play elements and more tiles to the - already quite elaborate - base game. We are continuing to add expansions available for purchase in our in-app store.
Click to find out more about "The River", "Inns and Cathedrals", "Traders and Builders" and "Princess and Dragon"!